Welcome to San Ramon Family Optometry
Since 1989, the eye doctors at San Ramon Family Optometry strive to provide each patient with quality vision solutions and exceptional customer service. We are honored to have been awarded the ValueStar "Top-Rated" certification by an independent survey done by the Public Research Institute of San Francisco State University. We are also honored to have been voted Best of the Best by Bay Area Parent Magazine® in 2008 for best "Vision Care for Kids", in 2011 for "Best Vision Care/Eyewear" category, and in 2013, 2014, and 2015 for "Best Vision Care/Eye Doctor" category.
We believe that maintaining healthy eyes requires comprehensive eye care and eye exam services. We are conveniently located in the Marketplace Shopping Center adjacent to Bishop Ranch. We offer complete eye care services for infants through seniors including treatment for glaucoma, eye infections, eye injuries, dry eye problems, and fitting all types of contact lenses. We can determine if you are a candidate for refractive laser surgery as well as diagnose macular degeneration, cataracts, and glaucoma. We also offer information and recommendations for ocular nutrition and computer vision syndrome.
NEW!
We now offer an on-line contact lens ordering website for our patients! Just log onto www.yourlens.com/srfo and register.
We offer the Macular Risk lab test to identify those with a genetic risk for wet macular degeneration.
You may e-mail us at: srfoptometry@yahoo.com or call us to make an appointment: 925-275-0202.
We look forward to seeing you!
Oct 17, 2016
San Ramon Family Optometry is now offering LensFerry!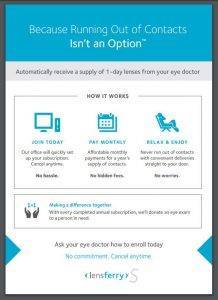 Sep 20, 2016
Great Eyewear and Eye Care in San Ramon, CA
With an office in San Ramon, San Ramon Family Optometry, Inc. serves San Ramon, Dublin, Danville, and Contra Costa County – schedule an appointment today. If you have a moment, please give us your feedback about our site and your experiences with our Practice.
LOCATE US
San Ramon Family Optometry
175 Market Pl.
San Ramon, CA 94583
CONTACT US
Phone: 925-275-0202
Fax: 925-275-0447
HOURS
Monday – Friday
9:00 AM – 6:00 PM
Saturday
10:00 AM – 2:00 PM
Sunday
Closed